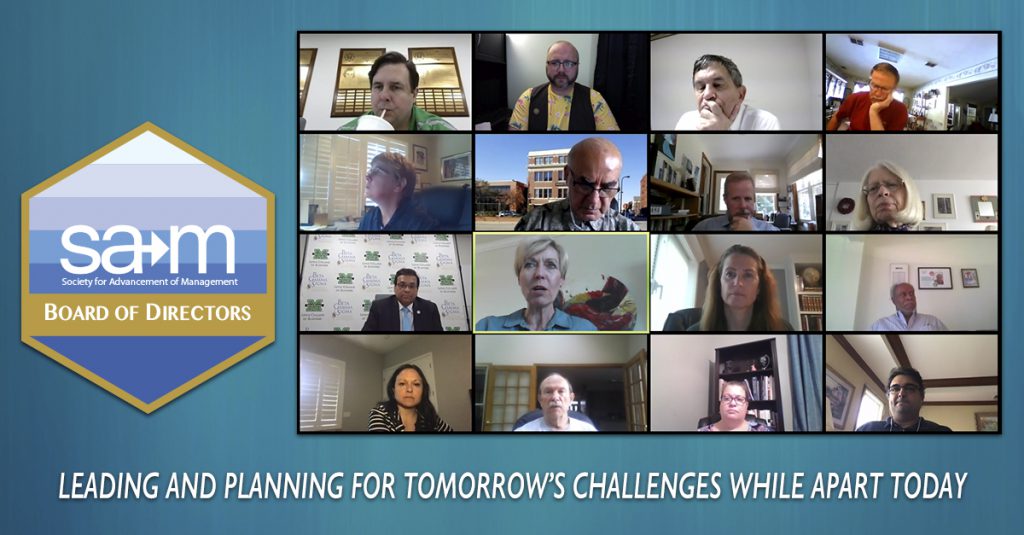 Annual Meeting Highlights
The Society's Board of Directors held it's annual meeting on June 27, 2020, via teleconference in response to the travel restrictions for those members who were are faculty, staff, and administrators in Educational fields. Here are the highlights of the meeting:
After a brief review of the activities and reports provided during the Annual Board Retreat held a day prior, the board proceeded to hold the election of directors for the upcoming year. The board re-elected a cohort of directors as well as celebrated the retirement of two directors from active service. Finally, the board elected three additional directors as new members of the board Heidi Batiste, Somnath Bhattacharya, and Kimberly Whitt.
In recognition of his service to the Society as both a Past President, Director, Chapter Advisor, and Collegiate Competition Judge. Dr. Allen Frazier was named an Emeritus Director of the Society and awarded all the privileges and benefits of the prestigious position.
The board approved the continued discussion with the Association of Information Systems for joint partnerships in promoting the SAM Advanced Management Journal.
The board approved the conceptual framework and process for approving certifications within the Society's programming. This included an expedited review of the concept and approval process for subject matter experts.
The board approved the report of the Chief-of-Staff Performance Evaluation Committee and approved the appointment of Patrick Endicott as the Society's Executive Director. The report highlighted the excellent work that has been done in the previous year, and the expectations for the continued success of the organization's partnership with the new role.
Following forward from the Annual Retreat the board approved the establishment and committee leadership of four new standing committees;
Finance & Budget
Strategy & Planning
Membership, Marketing & Advancement
Knowledge and Publications
In addition to the committees there were two additional ad-hoc committees established by the board;
Collegiate Competitions Committee
Conference Committee
Membership in all of the committees, standing and ad-hoc, are open to non-board members with approval and led by approved committee chairs. Each committee will report out a new committee definition and charge for approval at the next meeting.
The board approved the Journal Pricing Structure for 2021 with no substantial changes to the agreements with the publishing distributors.
There was some substantial discussion on the modality and operations of the 2021 Conference. With unknown travel variables and options currently impacting the membership of the organization, most discussion focused on potential options for maximizing engagement opportunities.
Finally, the board reviewed the request of the Treasurer to adopt the report of the Audit Firm Bonnes & Pullens for the previous year's review of financials. The CPA firm found that all the records and information supplied met generally accepted accounting principles.