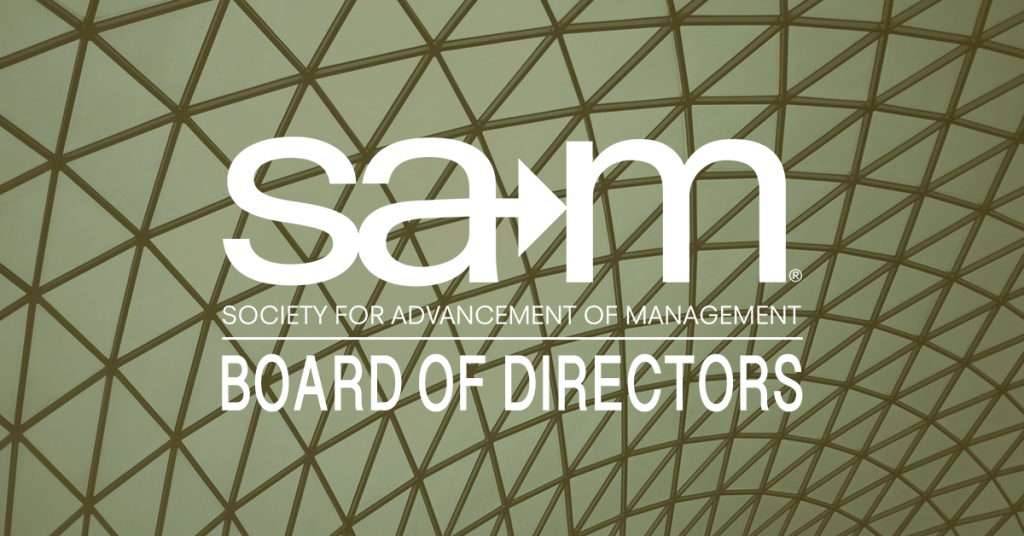 The Society for Advancement of Management is pleased to announce the election of three new members to its Board of Directors. The newly elected Board members are Heidi Batiste, Ph.D., Somnath Bhattacharya, Ph.D., and Kimberly Whitt, Ph.D..
Society President, Avinandan Mukherjee, announced, "We are pleased to welcome these three talented individuals. The diverse experience and unique backgrounds they bring to the organization will make them a great asset to the SAM Board of Directors and the leadership of the organization."
Heidi Batiste, Assistant Professor of Business, Nevada State College. Dr. Batiste began a career in human resource management in the United States Army in 1997 and moved on to serve in various positions in management in the public and private sectors. Her most recent role prior to joining the world of academia was as the principal consultant in her own workforce consulting firm. She earned a Bachelor of Arts degree in Psychology from Colorado State University-Pueblo in 2002, a Master of Science in Management from Troy University in 2004, and a Ph.D. in Workforce Development and Organizational Leadership from the University of Nevada, Las Vegas in 2016.  Currently, she instructs students in upper-division courses in management fundamentals and organizational behavior, human resource management, and leadership.
Somnath Bhattcharya, Dean of the College of Business and Management, University of Illinois Springfield. Dr. Bhattcharya brings more than 25 years of experience in higher education to the organization as he has served in numerous leadership positions at universities and institutions across the country. Dr. Bhattcharya holds a Ph.D. in business administration with a concentration in accounting from the University of South Florida, as well as an M.B.A. with a concentration in management information systems from Northern Arizona University. His research interests include enterprise resource planning systems' impact on adopting companies, the impact of eXtensible Business Reporting Language on adopting companies and measuring the return on investment of corporate information technology investments. He has more than 30 journal publications.
Kimberly Whitt, Instructor of Business and Management, Freed-Hardeman University. Ms. Whitt brings her extensive leadership experience to the organization as the Chapter Advisor for the largest SAM Collegiate Chapter. She holds a Masters in Philosophy from Walden University, a Masters of Business Administration, and a Bachelors in Science in Organizational Leadership. Dr. Whitt also has extensive experience in educational leadership and is a licensed Realtor in Tennessee.
2020 – 2021 Society for Advancement of Management International Board of Directors
Officers
Society President: Avinandan Mukherjee, Marshall University, College of Business
President-Elect: Susan Elkins, University of South Carolina, Palmetto College
Secretary: Bob Garner, Florida State University, College of Entrepreneurship
Treasurer: Sandi Zeljko, Collaborative Community Solutions
Directors
Heidi Batiste, Nevada State College, Business Department
Somnath Bhattacharya, University of Illinois Springfield, College of Business and Management
James Calvin, Johns Hopkins University, Carey Business School
Desmond Colleran, Acts Freedom Farms of America
Susan Eisner, Ramapo College of New Jersey, Anisfield School of Business
Patrick Endicott, The Villages Media Group
Berkwood Farmer, Wright State University, Emeritus Faculty
Rassule Hadidi, Metropolitan State University, College of Management
Hank Johnson, New England Institute of Technology, Business Department
Reza Kheirandish, Clayton State University, College of Business
Sara Kiser, Alabama State University, College of Business Administration
Dave Larson, University of Illinois Springfield, Emeritus Faculty
Kimberly Whitt, Freed-Hardeman University, College of Business and Management
James Winzenreid, Aramark Corporation