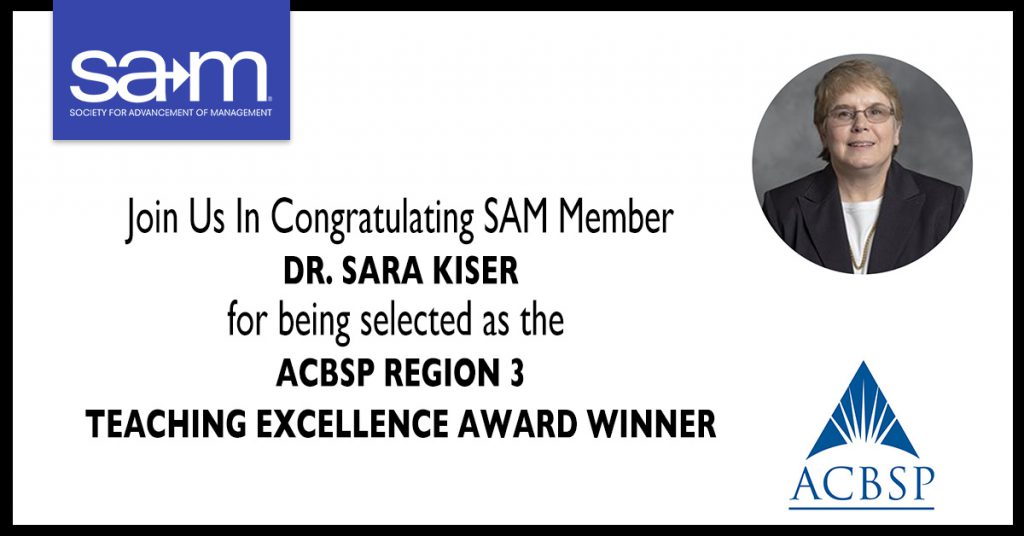 Each year, the Accreditation Council for Business Schools and Programs (ACBSP) recognizes the significance of the classroom teacher to the mission of degree-granting institutions by awarding a Teaching Excellence Award to recognize diverse individuals who exemplify excellence in teaching. This year we are proud to celebrate the achievements of a SAM Member who also serves as a Chapter Advisor and member of the International Board of Directors, Dr. Sara Kiser from Alabama State University.
Kiser was selected as the Region 3 Teaching Excellence Award recipient from among all Baccalaureate & Graduate degree school nominations in her region. This prestigious award recognizes Kiser's excellence in five categories; Teaching & Learning, Professional Development, Institutional Versatility, Curriculum Development, and Community Commitment.
Join us in celebrating Dr. Kiser's outstanding achievement and recognition with ACBSP as a fellow member of the Society for Advancement of Management!
Have you received an accolade or achievement as a member of the Society? If so, let us know by emailing social@samnational.org. We want to celebrate the achievements of our members in both the professional and academic communities.