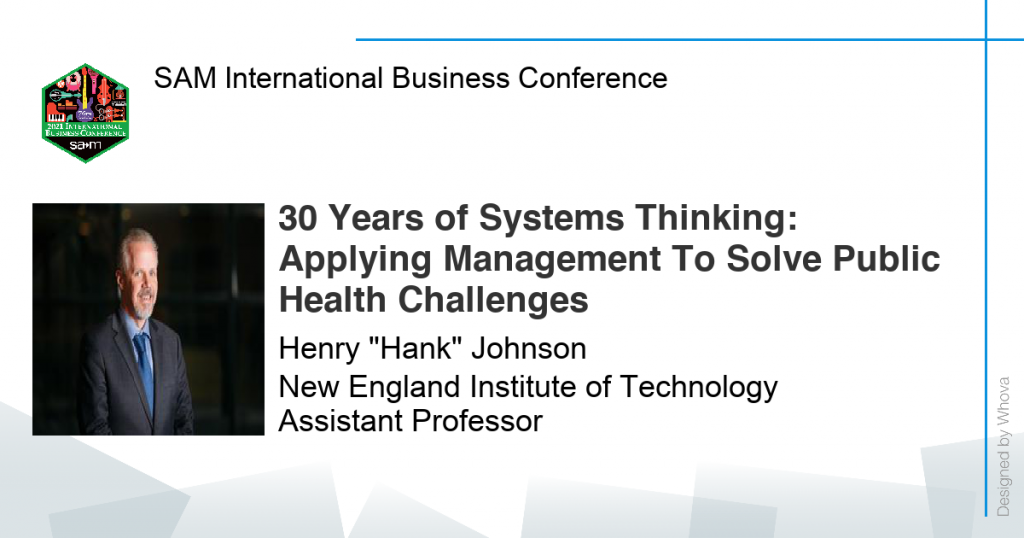 This year at SAMIBC2021 we are pleased to announce another of our presenters, Hank Johnson from the New England Institute of Technology. Professor Johnson will be presenting, 30 Years of Systems Thinking: Applying Management To Solve Public Health Challenges.
Presentation Abstract: The Fifth Discipline: The Art and Practice of the Learning Organization (Senge, 1990) revolutionized management thinking by introduced a new paradigm, "the learning organization". Senge's (1990) work has been widely adopted throughout large organizations, particularly when it comes to strategic planning. Other researchers such as Meadows & Wright (2008) and Stroh (2015) have argued that this management philosophy can be applied to solve the more complex social and environmental issues of our time. In this workshop, participants will receive a brief overview of systems thinking, its core tenets, and hear how 3 Masters of Public Health students utilized this approach to address the issues of non-emergency medical transportation, human trafficking, and childhood obesity. Workshop participants will also have the opportunity to ask questions and discuss how they can bring the approach into their classrooms.
Join us online to see this great paper and many more March 18 – 20, 2021. For registration information visit www.samnational.org/conference.