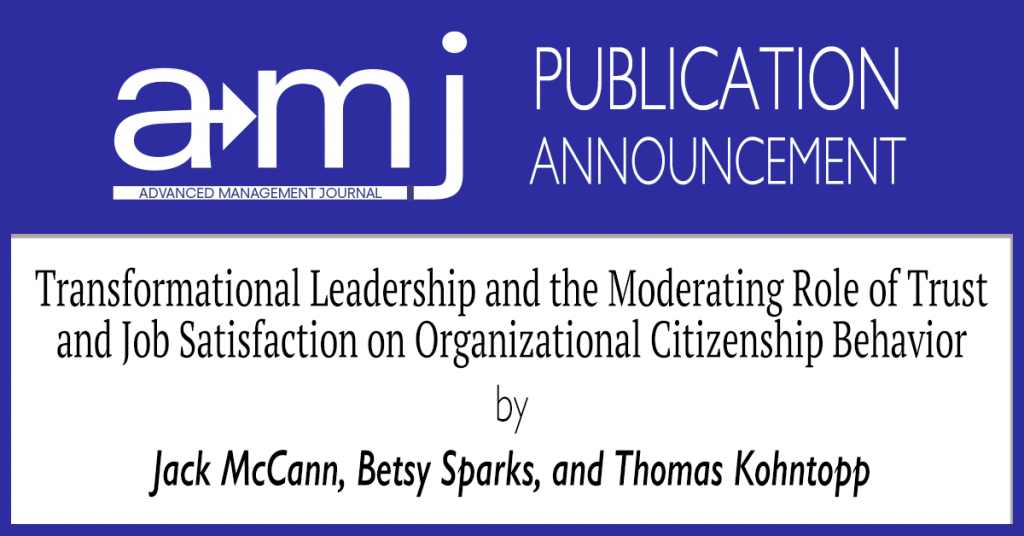 The SAM Advanced Management Journal is pleased to announce the publication of the article Transformational Leadership and the Moderating Role of Trust and Job Satisfaction on Organizational Citizenship Behavior by Jack McCann, Betsy Sparks, and Thomas Kohntopp in Volume 85 Edition 4.
Article Abstract:
This study examined the relationship between transformational leadership, interpersonal trust at work, job satisfaction, and organizational citizenship. Measures of transformational leadership behaviors, employees' trust at work, job satisfaction, and corporate citizenship were obtained from a sample of 157 manufacturing employees in the United States using a web-based survey. The survey results were analyzed using Partial Least Squares Structural Equation Modeling (PLS-SEM). Manufacturing employees with supervisors who exhibited transformational leadership indicated that they had exhibited corporate citizenship behaviors in their organizations. Job satisfaction and interpersonal trust at work also contributed to employee corporate citizenship but did not moderate the relationship between transformational leadership and corporate citizenship.
To read the article visit www.samnational.org or click here to purchase.  If you are a member of the Society, articles are available free of charge once you login.