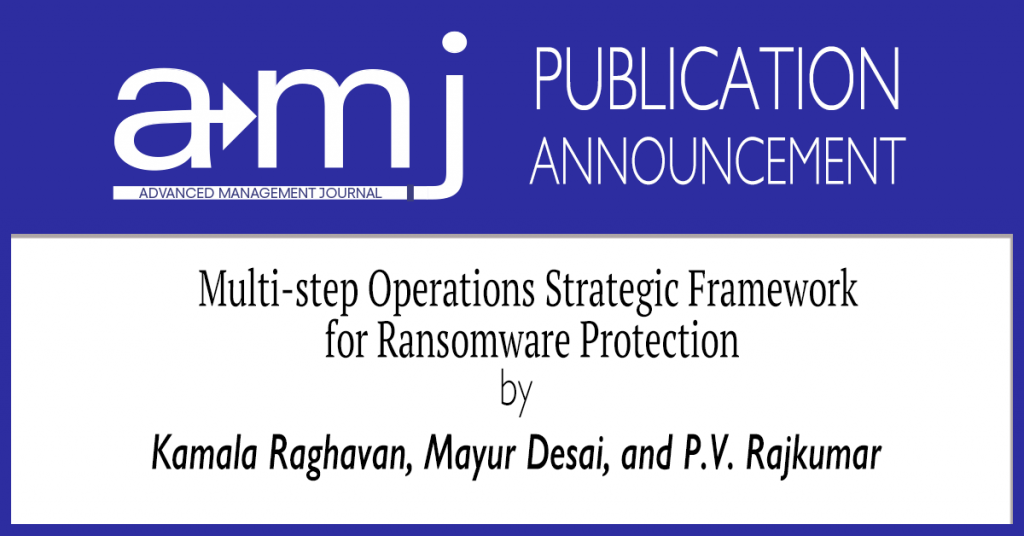 The SAM Advanced Management Journal is pleased to announce the publication of the article Multi-step Operations Strategic Framework for Ransomware Protection by Kamala Raghavan, Mayur Desai, and P.V. Rajkumar in Volume 85 Edition 4.
Article Abstract:
Governments and public entities across the globe are facing a growing threat of cyberattacks and escalating ransom demands with the attacks crippling their systems and costing them time and money in getting back to normal state. Governments and public institutions are large targets with valuable data assets, vulnerable technology and relatively weak security as compared to the corporate sector. These entities operate in a network of connected information systems out of necessity but are generally less prepared than corporations to combat cyber-attacks due to limited cybersecurity talent and software resources. They are relying increasingly on technology to deliver services to stakeholders to cut costs but using outdated computer systems. The purpose of this paper is to study the evolution of ransomware incidents and propose a multi-step operations strategic framework to protect the data and minimize the impact on critical services to stakeholders from ransomware. The proposed strategy consists of three verticals that contextualize and organize the cybersecurity technologies and procedures focused on the operations perspective.
To read the article visit www.samnational.org or click here to purchase.  If you are a member of the Society, articles are available free of charge once you login.