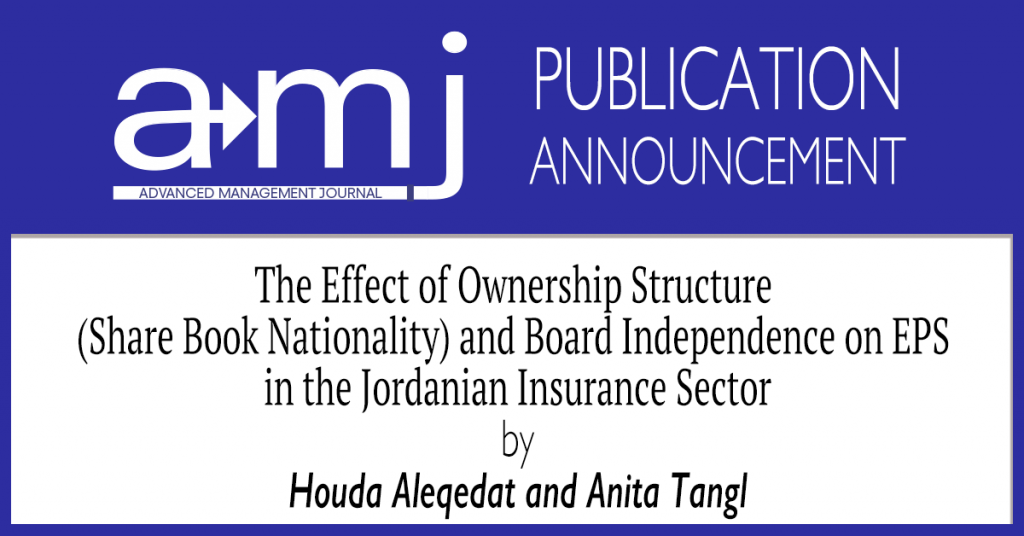 The SAM Advanced Management Journal is pleased to announce the publication of the article The Effect of Ownership Structure (Share Book Nationality) and Board Independence on EPS in the Jordanian Insurance Sector by Houda Aleqedat and Anita Tangl in Volume 85 Edition 4.
Article Abstract:
This study aims to investigate the effect of ownership structure, independence of the board on insurance companies' performance in Jordan measured by earnings per share for the years (2013- 2018). Based on agency theory, the data presented has been collected from the financial annual report of the Amman Stock Exchange (ASE). The sample of the study is the (23) insurance companies for the years (2013 – 2018). To test the hypotheses and models of study, the SPSS program has been employed by using: Descriptive statistics, Multicollinearity test, Pearson correlation, multilinear regression analysis. Results show that Arab and government ownership structures have a negative and significant effect on EPS. Foreign has a positive and significant effect on EPS. The largest OWS has a positive but not significant effect on the EPS. The independence of the board has a negative and significant effect on EPS.
To read the article visit www.samnational.org or click here to purchase.  If you are a member of the Society, articles are available free of charge once you login.