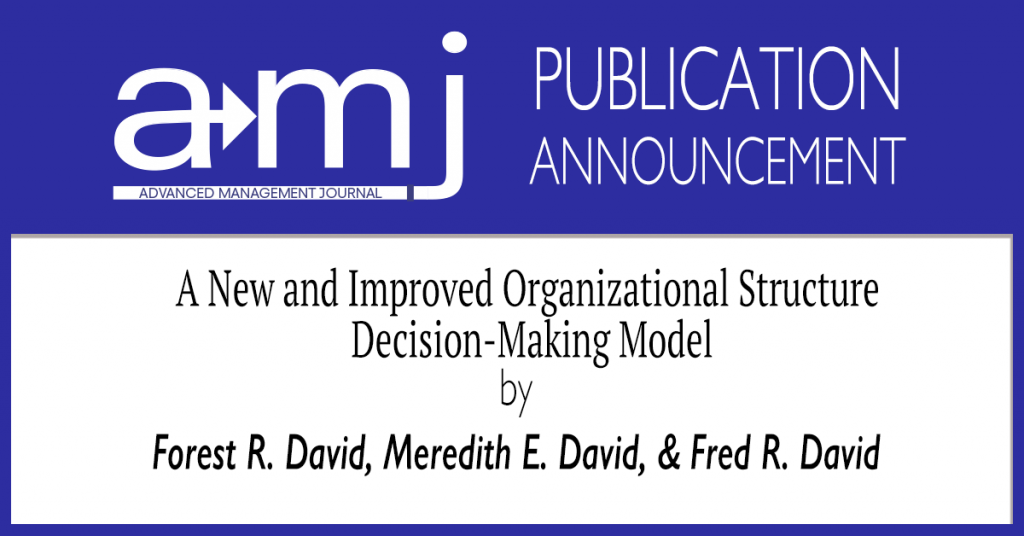 The SAM Advanced Management Journal is pleased to announce the publication of the article A New and Improved Organizational Structure Decision-Making Model by Forest R. David, Meredith E. David, and Fred R. David in Volume 85 Edition 4.
Article Abstract:
Businesses of all sizes and types around the world yearn for an effective organizational structure as they face rival firms committed to defeating them in the marketplace. Although the function of "organizing" is a key activity of management, scant literature provides either a theoretical or empirical basis for when, why, and how various types of structure are appropriate under various scenarios of organizational characteristics. From an extensive literature review, we determined there are 1) ten key characteristics of a firm that significantly impact structural design, 2) seven basic types of structure, and 3) three rudimentary characteristic-structure typological models. Existing typology models however do not adequately provide direction for companies or organizations making organizational structure decisions. Based on the characteristics, structure types, and prior typologies, we develop a new mathematical model that can reveal the best structure for any given firm. This paper provides a four-fold, substantial contribution to the management discipline by: 1) revealing ten basic organizational characteristics that can be used to guide organizational structure decision-making, 2) revealing seven basic types of organizational structure, 3) developing and presenting a new, improved model for determining the best structure for any firm, and by 4) proposing clear direction for future organizational structure research aimed at refining and enhancing the new model.
To read the article visit www.samnational.org or click here to purchase. If you are a member of the Society, articles are available free of charge once you login.