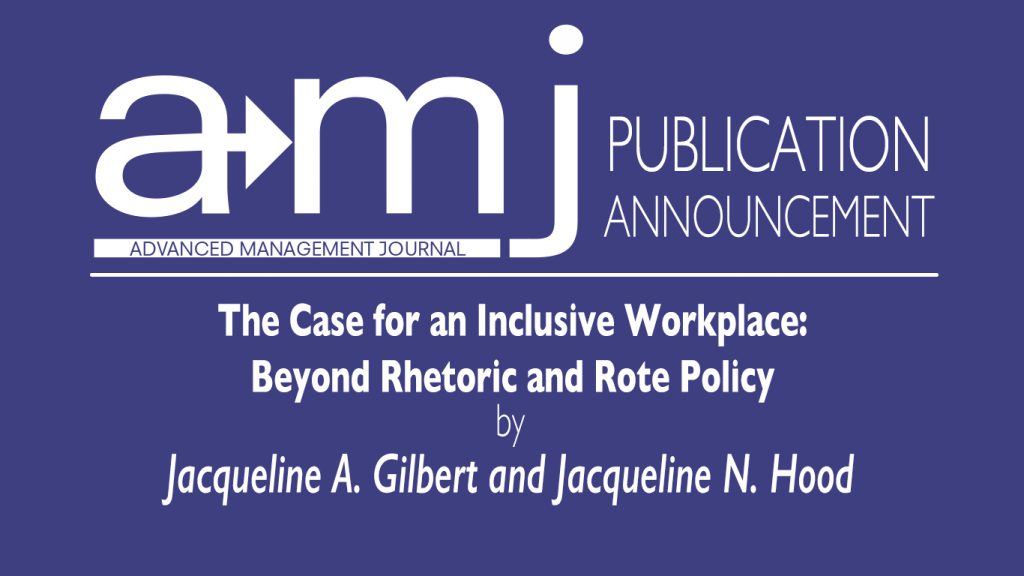 The SAM Advanced Management Journal is pleased to announce the publication of the article The Case for an Inclusive Workplace: Beyond Rhetoric and Rote Policy by Jacqueline A. Gilbert and Jacqueline N. Hood in Volume 85 Edition 1.
Article Abstract:
This manuscript describes the difference between workplace cultures that emphasize surface level diversity, consisting of attributes like gender, race, and color, with ones that focus on inclusion—defined as a community where employees are encouraged to speak, dress, and behave how they would normally, absent norms and company policy that direct them to do otherwise. Organizations that wish to cast an inclusionary net must undergo an overhaul of how they approach business practice.
Inclusive leadership, policy change/enactment that benefits a broad spectrum of employees, and HR initiatives comprised of training; systematically monitored, equitable, and annually adjusted compensation programs, along with family friendly policies are presented as the building blocks of inclusionary practice. Snapshots of what organizational community should look like and a rationale for why organizations should embrace inclusionary policy are provided. The paper includes a description of firms that have overhauled their cultures to achieve competitive advantage.
To read the article visit www.samnational.org or click here to purchase.  If you are a member of the Society, articles are available free of charge once you login.