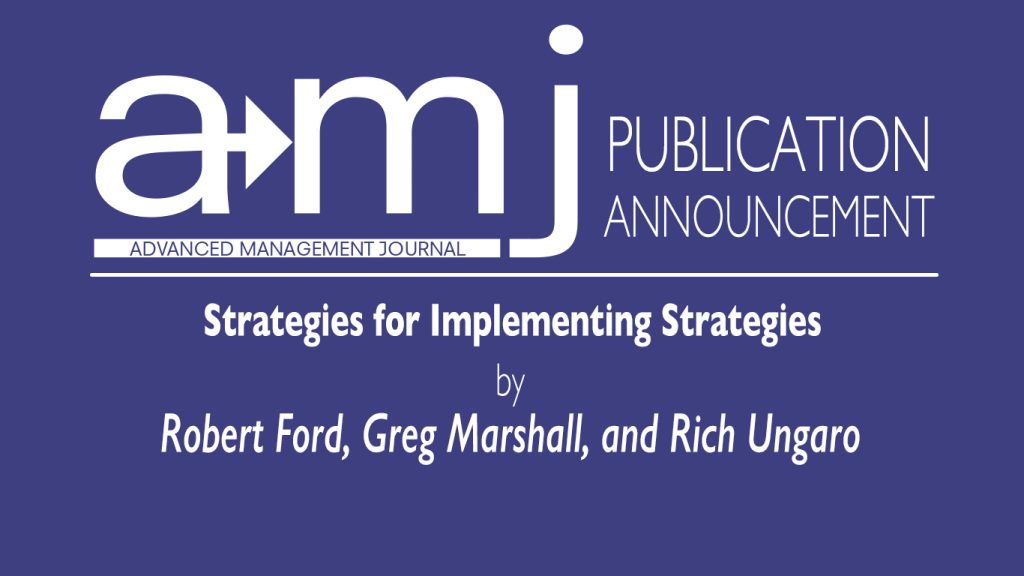 The SAM Advanced Management Journal is pleased to announce the publication of the article Strategies for Implementing Strategies by Robert Ford, Greg Marshall, and Rich Ungaro in Volume 84 Edition 4.
Article Abstract:
The purpose of this article is to present options for managers to consider who seek to execute a strategy. In addition, we offer seven steps to implement whatever strategy best fits the circumstances of the changes required to successfully execute that strategy. While there are many books and articles on how to plan a strategy, the literature providing guidance on execution or implementation of a strategy is surprisingly limited. Yet, every manager knows that it doesn't matter how elegant the plan is if it can't be implemented. Since execution of strategy inevitably involves change then having strategies for managing the change process is a key to successful strategy implementation. Here we present optional change strategies that offer different ways to successfully execute a strategy. These can be used individually or in combination as part of the overall implementation plan to yield the changes required to successfully execute a strategic plan. These execution strategies all focus on overcoming resistance to the changes that implementing a new strategic plan creates and build on the belief that those who help plan the battle seldom battle the plan. Finally, we offer seven steps to guide a manager in successfully managing the implementation process.
To read the article visit www.samnational.org or click here to purchase.  If you are a member of the Society, articles are available free of charge once you login.