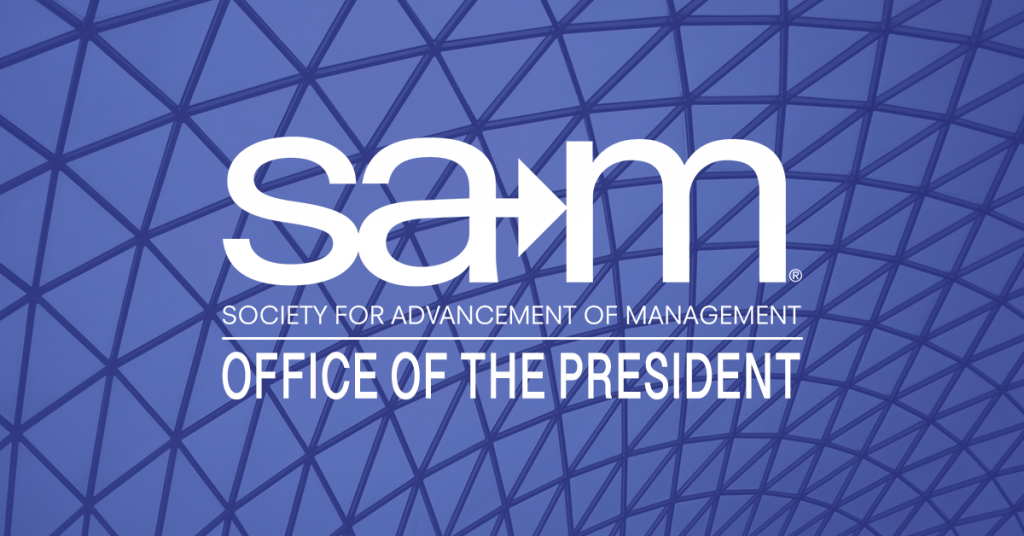 Colleagues,
I hope you and your loved ones are all safe and healthy. The last month and a half have no doubt been unlike anything we have ever faced. The implications of COVID-19 have changed so many things for SAM, for employers and entrepreneurs, for jobs and careers, for higher education, for our cities, our nation, and even the entire world.
Amid all of the unprecedented changes we have been navigating, SAM has remained resilient and worked not only to adapt to this new situation but also to innovate and develop a fully digital format for our 75th Annual International Business Conference!
It is even more exceptional that this 100+ year-old organization – as the oldest continuously active professional management organization in the world – has responded with such agility, creativity, and resilience at a time when many similar conferences were just canceled or indefinitely postponed.
Kudos to you all and to our chapter advisors, student teams, and faculty presenters, who reinvented themselves in such short notice (just one week) to make SAM 2020 IBC a huge success! I especially need to acknowledge the tremendous work of the conference committee led by Susan Elkins and Reza Kheriandish. I also need to recognize and thank Hank Johnson for coordinating the student side of the conference and for sponsoring the digital platform through the New England Institute of Technology. Most importantly, we need to recognize and appreciate the momentous endeavor that our Chief-of-Staff Patrick Endicott has devoted to redesigning this conference with his new ideas, creativity, tech skills, communication skills, budget skills, and marketing skills. Having worked very closely with him, I can say without any hesitation that we would not have gone down the path of the digital conference without the confidence he demonstrated in making this innovation successful.
And what a success it has been! We had 161 total attendees, with 38 research presentations (25 Recorded and 13 Live). The Student Competition was a huge success, with 14 Schools in the Presented Case Study Competition, 12 Schools in Written Case Study Competition, 13 Students in Business Pitch Competition, 27 Students in Extemporaneous Speech Competition, and 47 Students in Business Bowl Super Quiz. We are excited to also announce that we will be visiting Nashville for SAM 2021 through our gracious partner the Hilton Nashville Airport and will be in Orlando for SAM 2022.
I would also like to take a moment to recognize the tremendous contribution of our past president Dr. Allen Frazier to SAM. Allen has shared with our leadership team his intent to step off the SAM Board of Directors and we wish him well. Allen's association and involvement with SAM go back to 2001 as a faculty advisor for Harding students participating in the case competition. He was then asked to join the Board and ran the Student Competition section very creditably with our Case Competition Director Sara Kiser. Allen agreed to serve a one-year term as President of SAM during a very challenging transition period in the history of this organization and helped to lay the foundation of our prosperity in our second century.
Over the past year, Allen served as an Executive Officer on the Board in his capacity as Past-President. Allen shared, "I have enjoyed and benefited from my 19-years of participation with the Society for Advancement of Management. I wish you all the best and great success as you move SAM forward!" I have personally enjoyed working with Allen very closely and I know we will pick his brains on SAM on a regular basis. Again we wish him all the best in his future endeavors!
In closing, I have no doubt that we have come a long way. Our conference had a great theme this year, drew a record number of submissions, attracted significant sponsorships, was lined up with great plenary and keynote speakers and flipped to the virtual mode at the turn of a switch. We have a well-articulated leadership structure with a clear succession plan and better accountability. Our marketing, website, and social media have undergone a sea of change with a professional look unmatched by any academic organization. Collaboration has been evident in meetings and meetings where the Board has come together to make SAM better. And our journal, with an outstanding editor, is on its way to be recognized as a legitimate top-quality publishing outlet in its domain.
I would like to remind all of our SAM members what sets us apart from our peers at other professional organizations. We produce a unique ecosystem of ideas and intellect that brings together diverse groups of researchers, students, and practitioners in an effort to identify the next frontier of management practice and management education.
And it is our grit and resilience that will make the second century of SAM even more successful in this new post-COVID world.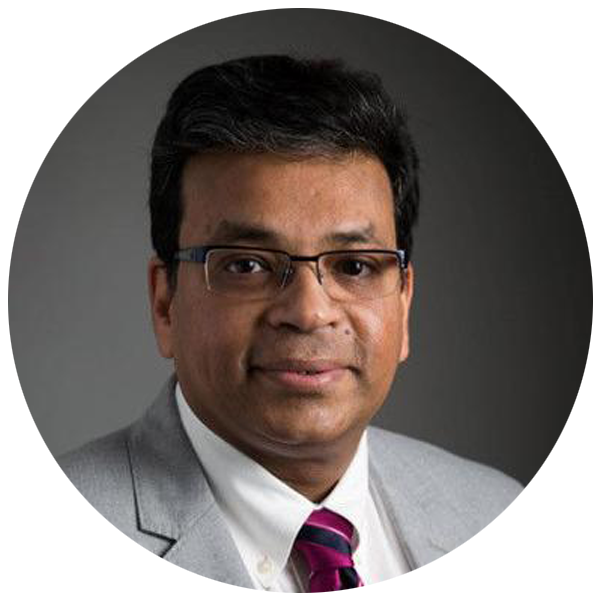 Avinandan 'Avi' Mukherjee, Ph.D.
President, Society for Advancement of Management