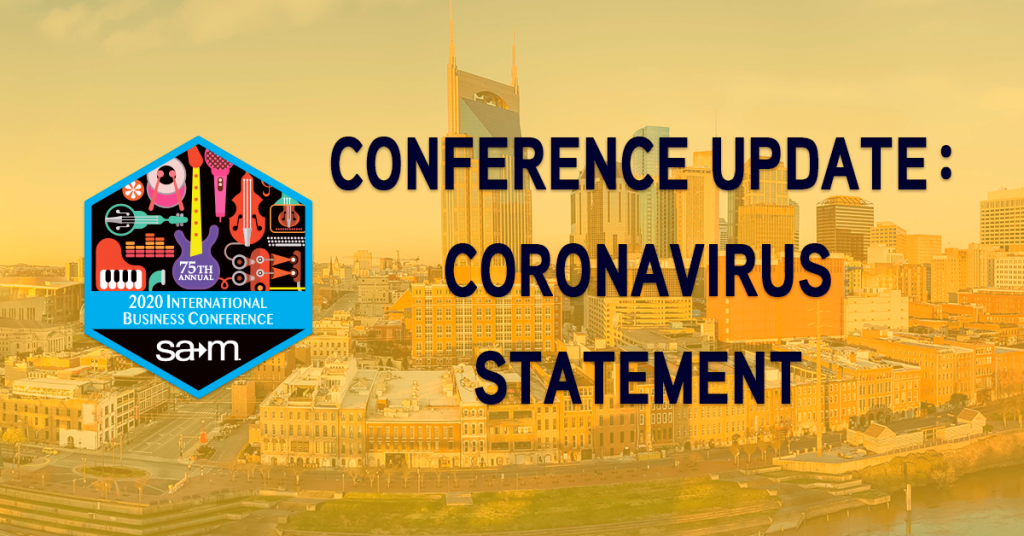 AN UPDATE ON THE SAM INTERNATIONAL BUSINESS CONFERENCE
We know many of you have concerns about the continued spread of COVID-19 (also known as the Coronavirus) and how it will affect the SAM International Business Conference 2020. We want to assure you that the health and safety of our conference community is of utmost importance to us.
We know that many countries, states, and colleges have restricted travel impacting your ability to join the event in person.  In addition to Governor Bill Lee's State of Emergency Declaration, and active cases of COVID-19 that now exist in the greater Nashville, Tennessee area, we also know that some of you may have underlying health conditions that put you at greater risk. 
For reasons beyond our control, we are reconfiguring SAMIBC2020 as an all-digital event. All registrations will be converted to a Digital Pass, and partial refunds made available as quickly as possible. Attendees will enjoy a high-quality experience from your location of choice. We do not take this decision lightly and we firmly believe that it is in the best interest of the safety and well-being of the management community, our members, staff, family, and friends. 
The SAMIBC Digital Pass will feature streaming individual access to the conference. This will include presentations and Collegiate Competitions. 
SAMIBC2020 is a special occasion for all involved and we will make every effort to uphold the spirit of the event regardless of its delivery. Like all challenges, these circumstances have provided an opportunity to bring the conference to even more people. 
The Hilton Nashville Airport as asked that you individually cancel your hotel reservations if you have not done so, we understand that some conference attendees may have made other plans that will require them to travel to Tennessee and did not want to leave you without a room.
The most important thing right now is that everyone takes the necessary precautions to stay healthy and safe.  We look forward to providing you your access details and plans for presenting on Monday, March 16, 2020!
Avinandan "Avi" Mukherjee, Ph.D. – SAM President
Patrick Endicott – SAM Chief-of-Staff