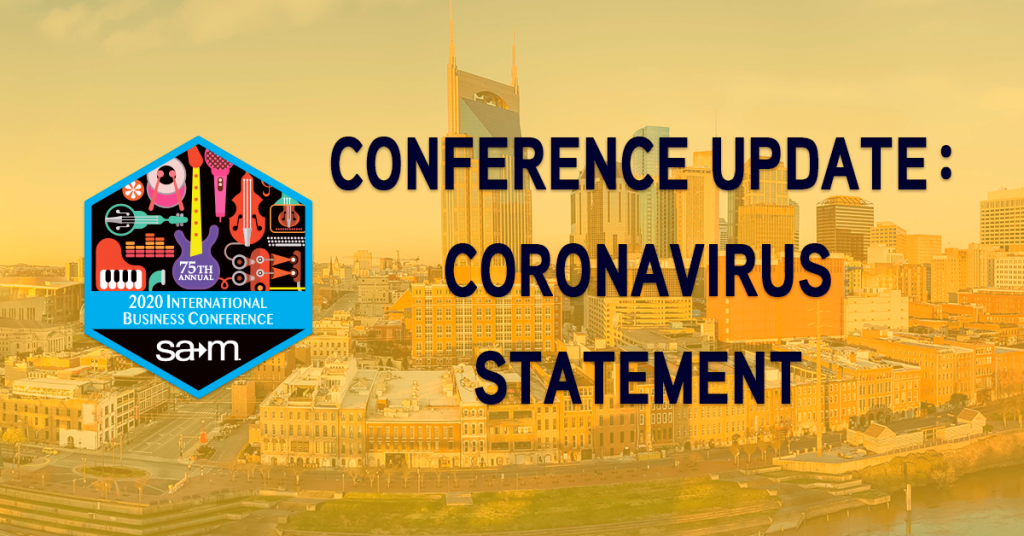 March 12, 2020
With the SAM International Business Conference scheduled to take place in just 7-days, we want to address a growing concern within the Academic and Management community on the safety of the conference and attendees.  
Currently, there is still no travel advisory warning or indication from the Tennessee Department of Health on the need for avoiding travel to the area. We will continue to monitor the situation closely and have several meetings scheduled today with health officials, our hotel partner, and our conference leadership team. While this may change in the upcoming days and hours leading up to the conference, we are still on schedule to have our 75th Annual Conference in Nashville.
For those conference attendees who have had travel restrictions put in place by their institutions and organizations, we are in the process of finalizing a digital participation strategy that will allow you to be part of the event from your own hometowns. The logistics of this undertaking are daunting and we anticipate fully fleshed out details to be provided to conference attendees this weekend.
Options for digital participation in the conference extend to both our Academic Paper Presenters, Workshop and Panel Sessions, and our Collegiate Competition series. If your institution or organization has placed a travel restriction and you need to avail yourself of the opportunity to participate digitally, please email conference@samnational.org and we will make the appropriate arrangements for you to participate.
This situation is fluid, and we continue to reassess the viability of the conference offerings on a near hourly basis. We appreciate your patience as we gather all the information necessary to make an informed decision.