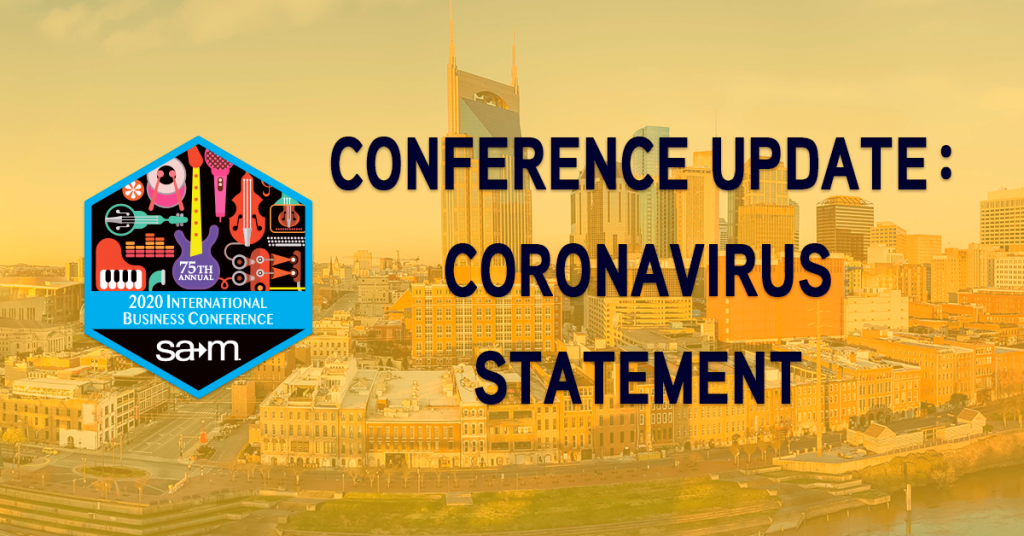 Guidance for Attendees Regarding the Novel Coronavirus
The programming committee for the SAM International Business Conference is monitoring the developments related to the coronavirus and will continue to do so over the coming days. We are working with our partners at the Hilton Nashville Airport and will take any necessary precautions at our event.
The World Health Organization nor the U.S. Centers for Disease Control have not recommended canceling major group gatherings. SAM IBC 2020 will proceed as planned, from March 19 – 21, 2020, at the Hilton Nashville Airport.
To protect our conference attendees, the Hilton Nashville Airport and SAM are taking extra safety precautions. These measures include:
Increasing the frequency of cleaning and sanitizing of meeting facilities and public areas;
Offering hand sanitizer to our attendees;
Promoting appropriate hand hygiene and respiratory etiquette;
Increasing hand sanitizer stations;
Reminding event participants to stay away from the event if they feel ill; and
Recommending persons who feel unwell (that is, have fever and cough) stay at home and avoid crowds until their symptoms resolve.
The World Health Organization (WHO) recommends the following precautionary measures to stay healthy while traveling.
Avoid travel if you have a fever or cough.
If you have a fever, cough, and difficulty breathing, seek medical care early and share previous travel history with your health care provider.
Avoid close contact with people suffering from a fever and cough.
Frequently clean hands by using alcohol-based hand rub or soap and water.
Avoid touching eyes, nose, or mouth.
When coughing and sneezing, cover mouth and nose with flexed elbow or tissue — throw the tissue away immediately and wash hands.
If you become sick while traveling, inform the crew and seek medical care early.
Eat only well-cooked food.
Avoid spitting in public.
Avoid close contact and travel with animals that are sick.
We will continue to monitor the situation and provide any updated as expediently as possible and encourage you to review the CDC information on the COVID-19 virus (a.k.a. Coronavirus) by clicking here.  We look forward to seeing you all soon in Nashville, Tennessee as we celebrate 75 years of our annual Society Conference.