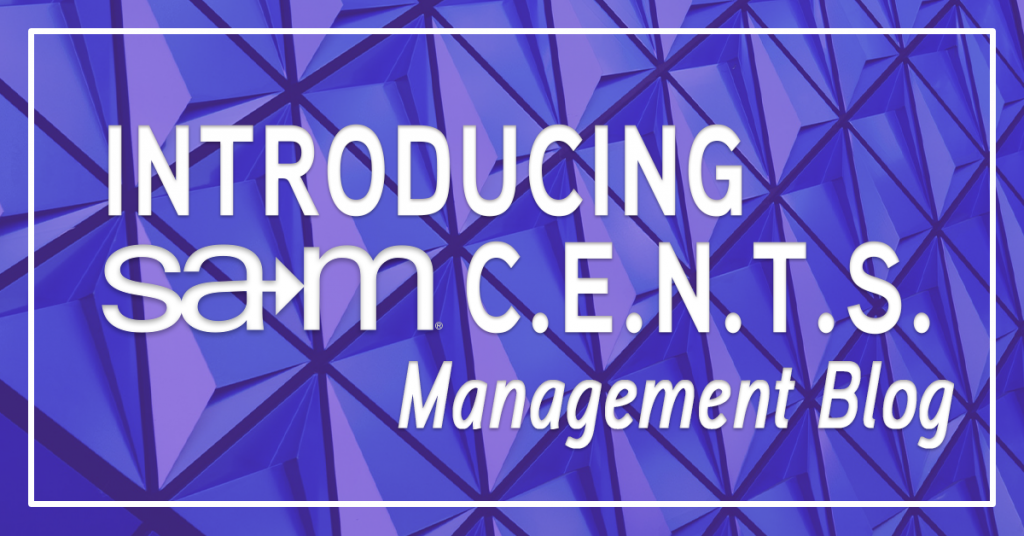 Today we're re-launching SAM C.E.N.T.S., our management blog that brings together great questions from our community, news and articles from our members, and awesome links from around the web. Our goal is to produce a repository of knowledge about the world of management that entertains, educates, and informs.
We've had a blog for a while now and we would sporadically scribble down some of our thoughts and share our insight and information. However, we here at SAM haven't had the chance to contribute as often as we would have liked to. A lot has changed in the past year within our operations and we wanted to take this opportunity to re-connect with you and acknowledge that we took a break from regularly contributing.
In fact, one of our biggest areas for improvement is being able to communicate and connect with the management community. While we want to educate and engage, we also want to give back and learn from the enormous knowledge of our professional community. We're so excited about the opportunity to interact with the Management Community through this blog and our vibrant social media community and in the coming weeks we will begin to add authors and contributors to SAM C.E.N.T.S.
In the meantime, we are happy to announce that we will be posting on a weekly basis and we will be focusing on the following areas:
Interviews – We are talking to hundreds of working management professionals, educators, and learners about their roles, favorite advice, books they've read, and challenges they see in the global community. We'd love to hear from you by contacting social@samnational.org.
Event Notifications – We will be sharing news on our events and activities like the SAM International Business Conference, online certification program courses, membership and chapter news, as well as information on our management competitions and awards.
Blogs – Our awesome content will feature information from management innovators. Our content will be advertising and advertorial free, with impartial and open discussion on topics facing our community today. We'll give you actionable insights, ideas, and stories — everything from tips on professional and academic writing, management advice, and ways to increase your effectiveness as a management practitioner.
Jobs – In addition to our own internship opportunities, we will also be providing hand-filtered quality job information for management professionals. Want to post your position? Email sam@samnational.org
Stay up to date by bookmarking our blog to make sure you have access to our latest posts, follow us on social media, and sign up for our newsletter and receive a monthly digest of our posts. We encourage you to support the content on our blog by submitting a guest posts. Our staff is reviewing content about their management experiences, challenges, and observations. You can connect with us about your management experiences by contacting social@samnational.org.
We're really excited about our re-launch of the blog and can't wait to start connecting with you soon.